Holistic Allergy / Intolerance Testing and Elimination
Stressor Testing is a natural health screening method (known as Biofeedback Analysis) used to obtain information from the body to determine the energetic level of intolerance of a given stressor.
Biofeedback Analysis is a natural, non-invasive and painless method that even children feel comfortable with.  It is safe and effective with immediate results.
Intolerance testing is available for foods, food additives, environmental substances, chemicals, pets, pollens, moulds, vitamins, minerals, hormones, emotional stresses and more.
It is safe and comfortable for babies, children, dog, cats, and horses.
---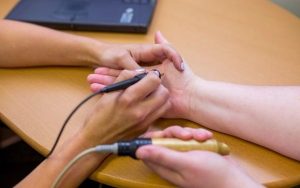 Find Relief From:
Allergies

Arthritis or gout

Pain

Headaches or migraines

Digestive issues and disorders

Fatigue

Constipation or diarrhea

Hemorrhoids

Restless sleep or insomnia

Acne or rashes

Nightly urination
Find Relief From:
Nightly urination

Learning disabilities

Memory loss

Bad breath or body odour

Anxiety or phobias

Depression or mood swings

Weight gain

And more...